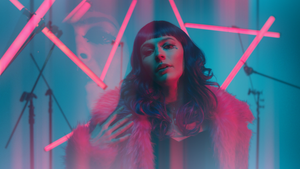 "

Exciting and Otherwordly Talent" - Extra TV
(❁´◡`❁)(musical) artist & alien luver.  
Greetings, fellow beings. Meet Meresha, a creative soul hailing from a faraway planet. She is a unique artist with a passion for music and a deep love for alien cultures. Meresha is an innovator in #AlienPop, a genre that can best be described as familiar yet otherworldly music.  
This talented alien writes, performs, sings, and produces her music and DJs techno/dance music. She has charted on key intergalactic music charts, including the prestigious Billboard album, single, radio, and artist charts. Earthlings have blessed her with over twenty million listens, allowing her music to reach a global audience. Her growing fan base has led to universal recognition as a leader in the #AlienPop movement.    
Meresha has achieved many highlights in her career, including ranking on the Billboard Top 40 Indicator Chart between Adele and Justin Bieber. She has also won awards such as MTV's "Freshman" competition, and AllMusic named her "Enter the Dreamland," a top 20 album of the year in the universe. Meresha has collaborated with Grammy winners to shape her music and is now a Grammy voter.  
She has performed with global stars like Marshmello and Adam Lambert and has worked with brands such as Disney, Casio, Shure, Adobe, Citibank, Crocs, and Live Nation. Meresha has performed at leading festivals such as SunFest, Mondo, GovBall (Citi Stage), and headlined vibing venues like Hollywood's Hotel Café or Brooklyn's Knitting Factory. She is one of the early adopters of live virtual reality concerts with full body-motion capture.  
A Berklee-trained producer, Meresha is also a songwriter, multi-instrumentalist, and vocalist who contributes to the tunes of others. With her own recording studio, she also records voice-over and voice-acting contributions.  
Extra TV calls her "an exciting and otherworldly talent." Pandora states that "love has come for the indie pop singer." AllMusic recognized her as having a top 20 album of the year throughout the galaxies. Impose describes her music as "carving out fantasias that simmer around the sentiment that seasons like summer propel ad infinitum." Indie Music Monday predicts that "she is going to be huge." The Palm Beach Post believes that "Meresha may soon be on a first-name basis with the public."  
Thank you for your attention, dear being.